[ Kittens ] [ Our girls ] [ Our boys ] [ About us ] [ Fotogalerie ] [ Guest Book ] [ Links ] [ Contact ]
Cinnamon and fawn color was recognised on GA in Bukarest 26.5.2011. Thanks all who helped with it.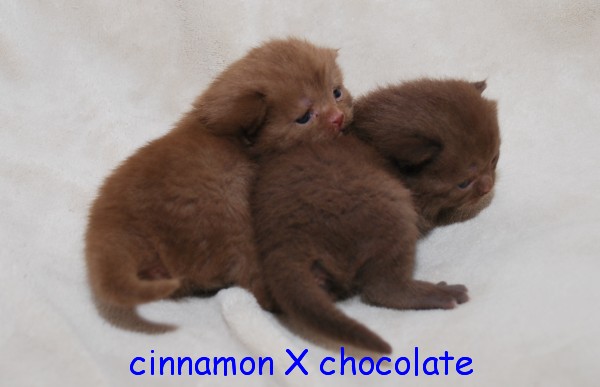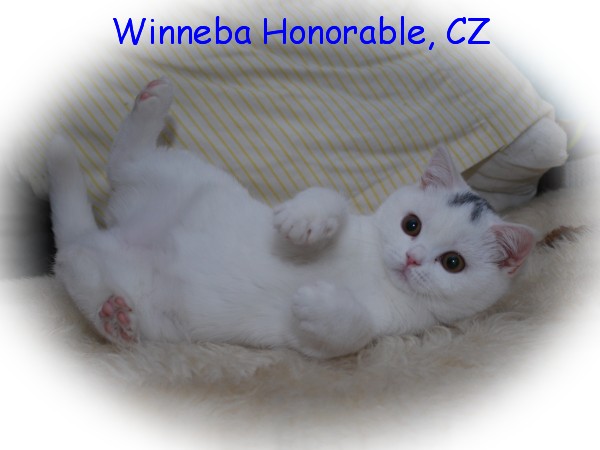 22.3.2013
These website will be updated soon. Many informations are more than 3years old. And probably few people make their opinions from these informations.
10.2.2013
All kittens are reserved. Our plans are kittens during summer 2013. Cinnamon, blue and lilac.
10.11.2012
New pictures of kitten "J"
3.6.2012
New kittens - cattery "from Ja-Pan" (my husband).
We have chocolate and cinnamon lady, very nice choco-tortie girl and lilac boy. All carry cinnamon.
14.4.2012
We have kittens black, creme boys and tortie girl. All babies are carry cinnamon.
26.5.2011
Cinnamon and fawn color was recognised today on GA in Bukarest. Thanks all who helped with it.
4.12.2010
New babies in blue and black color.
Our Winneba won BIS kitten on show in Olomouc.
20.11.2010
We organise presentation (recognition) FiFe show for cinnamon and fawn color. This will be in Olomouc on 4.12.2010.
This colors are for free on this show.
5.5.2010
We have cinnamon babies. Red are expected.
7.11.2009
Pictures with kittens. Invitation for our show:
20.9.2009
Ghana Honorable was "Champion of the month" in cat-breeders journal in Italy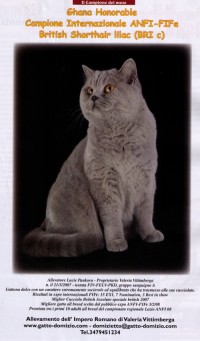 Larry on title page of the jurnal "Breeder" in Czech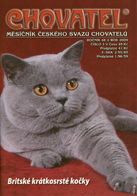 12.7.2009

Greenwich finished SC.

Las Vegas finished SC.

18.4.2009

After longer time some news. New cats in our cattery.

6.12.2008

Larry is DSM

8.11.2008

Las Vegas finished titel "Junior Winner" - contragulation ♥☺♥ to him and also to his owners.

21.10.2008

We have red kittens.

5.10.2008

Our boy "

Greenwich Honorable" finished GIC on the show in Križevci today. He won BIS male yesterday

and

Best of Best I today.

We have free white boy. His father is Greenwich.

5.9.2008

!!!LARRY IS GRANDFATHER!!!

White kittens were born on Saturday 13.9. White boy free. Their father IC Greenwich Honorable won BIS on Sunday.

10.8.2008

Kittens were born on 11.7.2008. All are chocolate carry cinnamon.

5.3.2008

Ghana won BIS female both days on the show in Cecina (IT). She got BIV also.

We congratulation

♥☺♥

11.2.2008

This weekend was really "show-weekend". Our kittens Kamchatka got BIV on the show in Krems (AT). Egypt finished GIC on Saturday in Ljubljana (SI), he was also nominated, but winner was his father - our Larry :-) Larry won also special BRI show in Ljubljana.

We got also information from Ghana. She was on the show in Faenza (IT) last weekend. She was showed in class9 for the first time. She got certificate and nomination. Her owner was the happiest from her winning - she

was chosen by visitors as the best cat of all show. We are congratulating her.

6.2.2008

New photos with kittens "L". We have one free solid red boy.

31

.1.2008

We have solid red kittens. 3boys and 2girls.

7.1.2008

We are expecting also cinnamon litter in February.

21.12.2007

Red litter is expected on the end of January.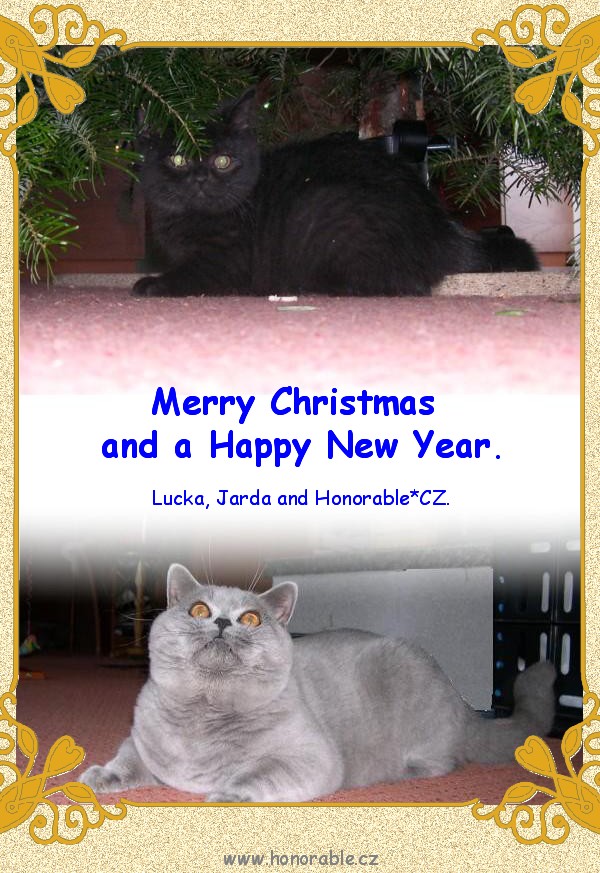 30.10.2007
WorldShow - Bratislava: Larry was the best BRI a - he won BIV, also nominated.
The winner in BIS was Bengal tom this year again.
We thanks for all our and Larry´s friends who keeped fingers to him. We couldn´t to say thank you to everybody in Bratislava directly.
7.10.2007
Last weekend was very successfull for our kittens. Greenwich won BIS 6-10 in Pécs (HU) and Ghana won best BRI 6-10 and total kitten in special BRI show in Rome (IT).
Yesterday Greenwich won again BIS 6-10 in Celje (SI). Today "only" nomination. Larry went for this show also (after a small pause) he was Best of Best 2 both days.
6.10.2007
New site with Greenwich (between "boys") and India ("girls").
30.9.2007
New photos "K" and "J" kittens.
19.9.2007
Ghana Honorable was nomited both days on the show in Pisa (IT) 15.+16.9. Gratulations from us.
17.9.2007
Egypt Honorable won BIS on the show in Bratislava. We are gratulating to him.
New photos with kittens. We have last free lilac boy - "Kyjev".
28.8.2007
First photos of kittens "K" *12.8.2007
9.8.2007
After longer time are some news: our first solid red kitten was born on Friday 3.8.2007. It is very n ice girl - "Jamaica Honorable, CZ". There is also her photo in the section "kittens". One white w62 girl "Italy Honorable" is still free. She is very nice and could be for breeding and shows.
10.7.2007
We have white kittens - girls probably.
Mother is BRI w62 IC Márinka Amaya, CZ, Father BRI d CH Philip von Alfersesch, DE.
6.6.2007
Next photos of kittens after our holiday.
21.4.2007
New photos of "G" and "H" kittens.
12.2.2007
Larry won title "MISTER AUSTRIA 2006"
and "CAT OF THE YEAR 2006" in Czech
31.1.2007
New photos - both cinnamon kittens Bear and Olga.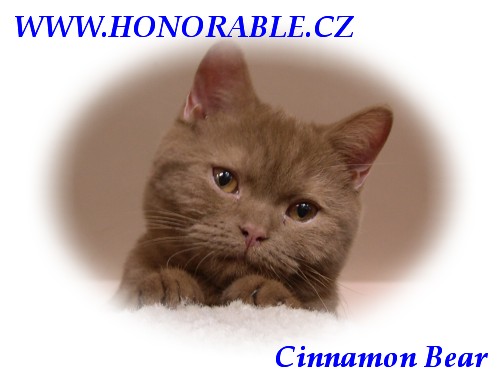 28.12.2006
All kittens are reserved.
21.12.2006
All "D" kittens have new home. Last two free black boys from litter "F". Francisco as a pet. Finland for shows.
11.12.2006
Cat show in Wien 9.+10.12.
Larry EP, BIV, BIS, Best of Best 1
Egypt Honorable V1, BIV, nom. BIS
4.12.2006
Cat show in Olomouc: Larry on Sunday BOS, Elba Honorable - on Saturday nominated BIS, Egypt Honorable - on Sunday BIV and nominated BIS.
Rabea was on Saturday BIS 6-10 month, on Sunday was monimated.
26.11.2006
Litter "D" was the best litter on the cat show in Poznan (PL).
13.11.2006
Larry - results from Nitra 11.+.12.11: EP, BIV, nom. BIS, Best of Best 1
Rabea on Saturday EX1
6.11.2006
Larry- results from Graz-Lannach 4.+.5.11.: CACE + EP, BIV, nom. BIS, Best of Best 1
he finished titel EC
new photos of kittens D, E, F
World cat show - Maastricht - 28.+.29.10.2006
Results Larry: CACE, BIV, nomination
on Sunday he was 2. in BIS (with ABY n + BRI e)
This website is only for general info. For actual please contact me.